Spring Fantasy 2021 : A Healing Journey Through Mountains and Waters is the second offline exhibition organized by China Cultural Center Den Haag in 2021. The curator of this exhibition is Mr. Zhou Lesheng, a Den Haag based Chinese artist, who is also the instructor of 'Advanced Chinese Painting and Calligraphy Course'. Ms. Minhong Yu, an independent artist, is the co-curator and exhibition designer. The eight participating artists are: Alisha Radjkoemar, Anneke Roozendaal, Bert van Herwijnen, Eugenie Doeve, Hannah Kockx, Isaline Ritter, Martine Scheurkogel, Marijke Hennevelt-Castelijn.
The China Cultural Center Den Haag has digitally conserved 24 of the works in the exhibition and has launched an 'Online Gallery' to allow more visitors who are unable to visit the offline exhibition to enjoy the works remotely.
Today we present the second half of the Online Gallery, where you can view the works of four artists - Isaline Ritter, Marijke Hennevelt-Castelijn Eugenie Doeve, Hannah Kockx.

Preface
This spring comes late, but it is better late than never.
Spring Fantasy is a flagship event that has been running for four years since the center first opened to the public in 2017, with the intention of fostering dialogue between Chinese and Dutch artists. This seed, sown in the autumn, has survived a long winter and the pandemic that has spanned for more than one year and half, yet is now blooming again.

Spring Fantasy 2021: A Healing Journey through Mountains and Waters is born out of this backdrop. This exhibition focuses on 'healing', featuring 24 artworks created by 8 Dutch artists of the first 'Advanced Chinese Painting and Calligraphy Course' in the year 2019-2020. These eight Dutch artists, who are also oil painters, printmakers, sculptors, former judges or doctors, have been brought together by their affection and enthusiasm for traditional Chinese paintings and calligraphy. Because of Covid-19, the course had a sudden stop last March, while Mr. Zhou Le Sheng, the instructor, endeavored to deliver the "Six principles of Chinese painting" by Xie He ( fl. 6th century ) to the students through means of remote instruction. During the lockdown, they have blended their life reflections into the practice of Chinese painting and calligraphy, through which they were able to express their thoughts, nourish and heal the minds, while trekking through the pandemic together.

Distinguished from the artistic pursuit of traditional Western painting, traditional Chinese painting is not confined to the external resemblance of objects, but rather focuses on the 'expression' of the essence. The 'Advanced Chinese Painting and Calligraphy Course' allows Dutch students to study these techniques through imitation and sketching. While imitation is a process of comprehending of the language of Chinese brushwork, sketching is a way of finding the harmony between man and nature. The aim of Spring Fantasy is to initiate cross-cultural exchange between Dutch and Chinese artists, eventually hoping to seek resonance between mankind and the nature, art and the soul.
Gallery
About
5. Marijke Hennevelt – Castelijn
Ever since I remember I had a mysterious attraction towards the Chinese culture in many ways. In and around my house there are two ponds with koi and a little waterfall. This environment provides a lot of my needs. The fascination with water in all types inspired me to record water in any possible form, but I did not know how. 15 years ago I met the very gifted teacher Mr. Zhou Le Sheng at the academy in Amstelveen and I became his pupil. During 10 years I practiced painting flowers, birds and finally started painting landscapes. The Tau Teh Tsing was often in my mind and gave me the need to capture water in a painting. Water, being transparent can only be created by his boundaries, like not-being itself. It looks like being emptiness but it exists. The waterfall, the sound attracts attention, you can see it but not the source or the ending...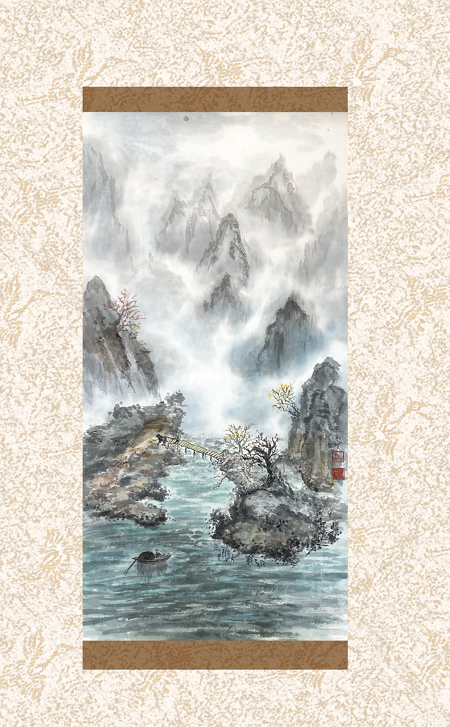 Marijke Hennevelt-Castelijn
Landscape (风景)
114.5x58 cm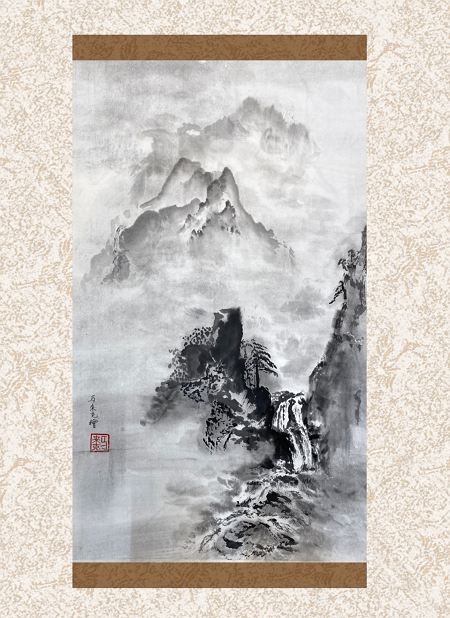 Marijke Hennevelt-Castelijn
Landscape (风景)
40x68 cm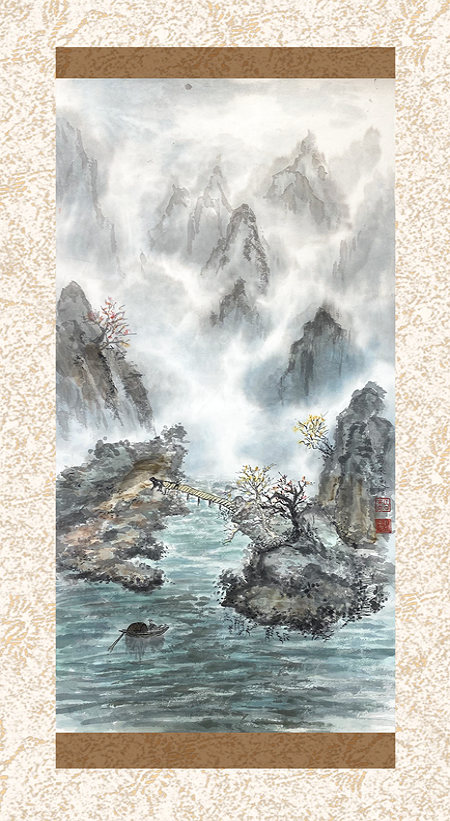 Marijke Hennevelt-Castelijn
Landscape (风景)
24x68 cm
About
6. Isaline Ritter

My visual arts quest through life started with pencil- and charcoal drawing. After that, the need for colour came in with the practice of water colour and later on, with the self-made tempera for my Greek and Byzantine Icons, followed by the use of gouache for my Tibetan thankas. The quest caught also some initiation in the secrets of the XVIIth century oil painting. Finally, my most appreciated initiator appeared on the road in the person of professor Zhou Lesheng who introduced me in the mysteries of the Chinese ink, the silk and the rice paper, the outstanding brushes, and my eye was at last opened for the - the whole Creation - underlying CHI.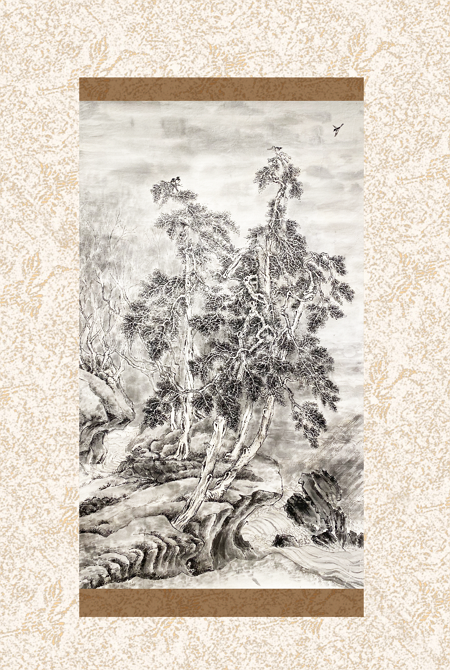 Isaline Ritter
FLY (飞)
69x113 cm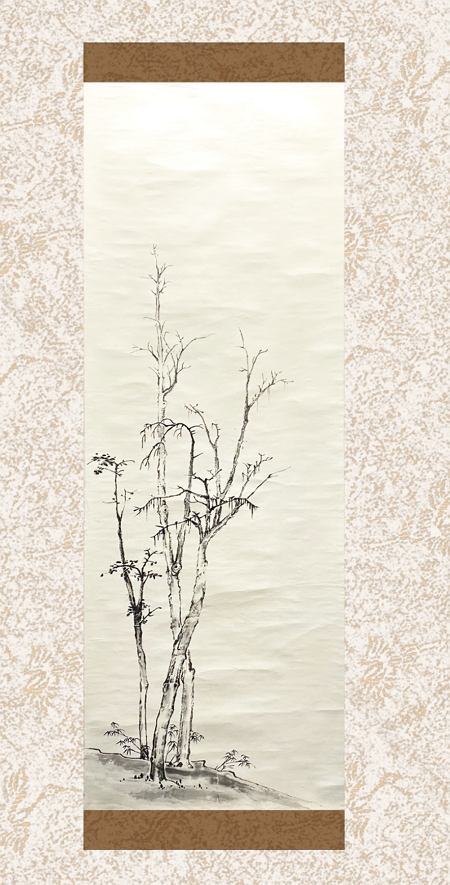 Isaline Ritter
Simple (简)
136x59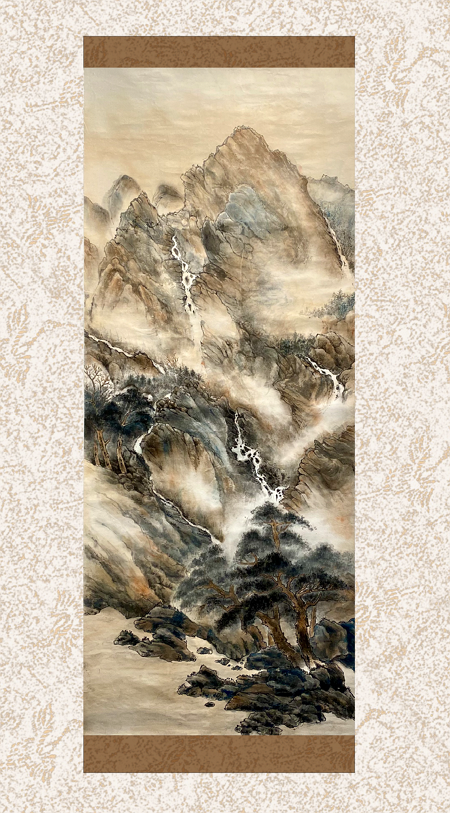 Isaline Ritter
Spring (春)
133x57 cm
About
7.Hannah Kockx
In 1980 I started as a voice and text coach at the art university, Theatre School. At the same time, I studied visual arts at Rietveld Academy. Immediately I started to create an atelier and started working on my own (in silence) - instead of working collectively and interactive which demands theatre.
At the moment I am a member of the board of Graphic Artists Holland. With all this information of old and new development in Graphic Art. And organizing exhibitions.
I am always searching for my childhood landscape, nature was always my guide and inspiration. My material to express myself was PAPER. Paper has memory in its structure. Paper had the character. Rice paper has everything...
Printing at the press with all kinds of paper is pure alchemy. I make my paint from pigments. Sometimes taken from the natural environment I visited. Zhou asked me to join the project Chinese painting. And we started a dialogue. I was in lockdown on an Island and took with me the notes and rules of Chinese painting: rice paper, ink, pencils. With the eyes of Cézanne and the Chinese masters, during the hundred days I was there, I made a hundred sketches. And back home some art books. With excitement, I'm still learning technic from Zhou and exchange ideas and hope to do so in the future.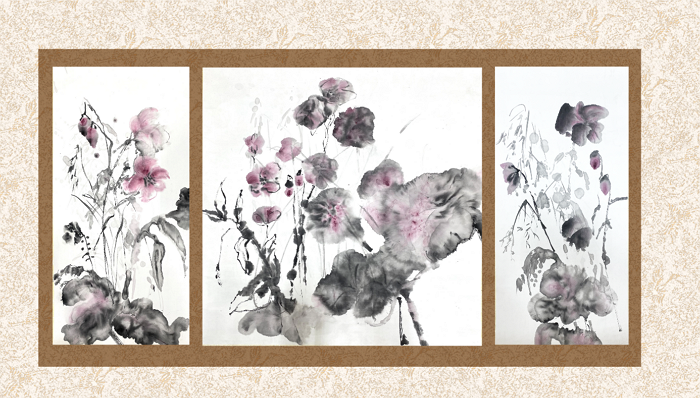 Hannah Kockx
Childhood Garden(童年的花园)
67x33, 67x67, 67x33 cm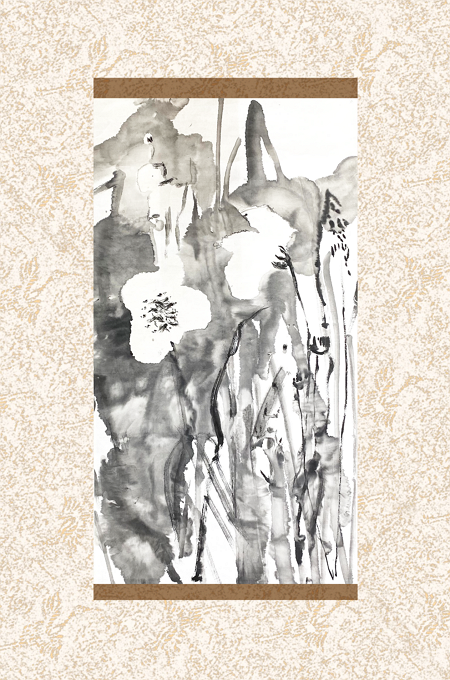 Hannah Kockx
Night garden (夜花园)
117.5x64 cm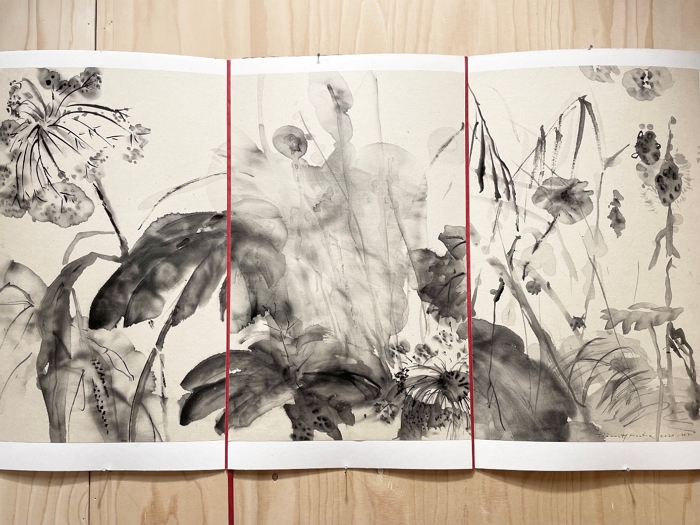 Hannah Kockx
WHISPERING WEEDS - A PORTABLE GARDEN (细语的小草 - 移动花园)
About
8. Eugénie Doeve
I retired in 2011, after working for more than 31 years as a general manager in various (psychiatric and general) hospitals. I was always interested in Chinese painting and from September 2011 Mr. Zhou le Sheng has been my teacher.
Because of these lessons, I began to read more and more about Chinese painting and Chinese history and culture. That's why I wanted to visit and experience China. Therefore I visited China three times; once because of my job, as I wished to learn about the Chinese healthcare system, and twice to make a roundtrip because I wanted to see more of the fascinating landscapes, museums, and cities. Furthermore, I took courses in Chinese history and philosophy and I tried to learn calligraphy.
The original painting is called "Dwelling in the Fuchun Mountains", attributed to Huang Gongwang (1269-1354).The painting later turned up in the hands of Shen Zhou (1427-1509) His copy, based on his memory was made in 1487.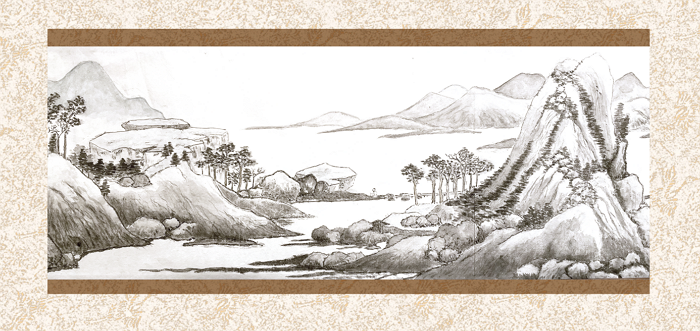 Eugénie Doeve
In imitation of Huang Gongwang's "Dwelling in the Fuchun Mountains" (partial)
(富春山居图仿作,局部)
660x32.5 cm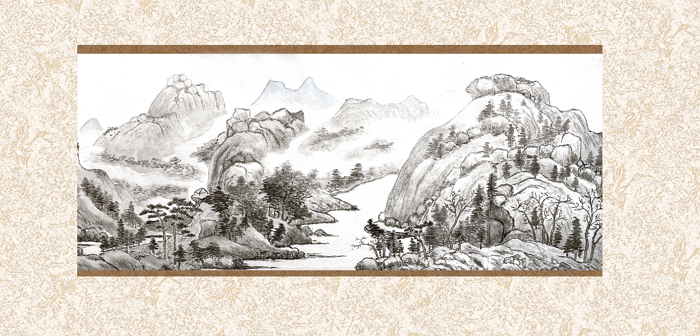 Eugénie Doeve
In imitation of Huang Gongwang's "Dwelling in the Fuchun Mountains" (partial)
(富春山居图仿作,局部)
660x32.5 cm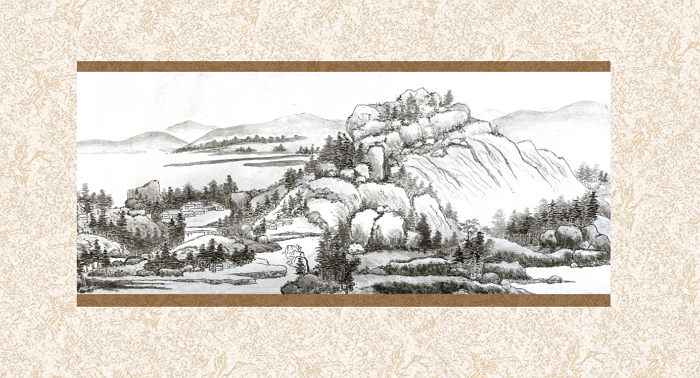 Eugénie Doeve
In imitation of Huang Gongwang's "Dwelling in the Fuchun Mountains" (partial)
(富春山居图仿作,局部)
660x32.5 cm
Please kindly note that due to the local Covid-19 regulations, the exhibition will be restricted to a limited number of visitors, and will be open by appointment only. The exhibition opens every Wednesday & Friday from 2pm to 5pm, please reserve your ticket via [email protected] You can also follow us on Facebook and Instagram for more information on the workshops.