Spring Fantasy 2021 : A Healing Journey Through Mountains and Waters is the second offline exhibition organized by China Cultural Center Den Haag in 2021. The curator of this exhibition is Mr. Zhou Lesheng, a Den Haag based Chinese artist, who is also the instructor of 'Advanced Chinese Painting and Calligraphy Course'. Ms. Minhong Yu, an independent artist, is the co-curator and exhibition designer. The eight participating artists are: Alisha Radjkoemar, Anneke Roozendaal, Bert van Herwijnen, Eugenie Doeve, Hannah Kockx, Isaline Ritter, Martine Scheurkogel, Marijke Hennevelt-Castelijn.
The China Cultural Center Den Haag has digitally conserved 24 of the works in the exhibition and has launched an 'online gallery' to allow more visitors who are unable to visit the offline exhibition to enjoy the works remotely.
Today we present the first part of the Online Gallery, where you can view the works of four artists - Alisha Radjkoemar, Anneke Roozendaal, Bert van Herwijnen and Martine Scheurkogel.

Preface
This spring comes late, but it is better late than never.
Spring Fantasy is a flagship event that has been running for four years since the center first opened to the public in 2017, with the intention of fostering dialogue between Chinese and Dutch artists. This seed, sown in the autumn, has survived a long winter and the pandemic that has spanned for more than one year and half, yet is now blooming again.

Spring Fantasy 2021: A Healing Journey through Mountains and Waters is born out of this backdrop. This exhibition focuses on 'healing', featuring 24 artworks created by 8 Dutch artists of the first 'Advanced Chinese Painting and Calligraphy Course' in the year 2019-2020. These eight Dutch artists, who are also oil painters, printmakers, sculptors, former judges or doctors, have been brought together by their affection and enthusiasm for traditional Chinese paintings and calligraphy. Because of Covid-19, the course had a sudden stop last March, while Mr. Zhou Le Sheng, the instructor, endeavored to deliver the "Six principles of Chinese painting" by Xie He ( fl. 6th century ) to the students through means of remote instruction. During the lockdown, they have blended their life reflections into the practice of Chinese painting and calligraphy, through which they were able to express their thoughts, nourish and heal the minds, while trekking through the pandemic together.

Distinguished from the artistic pursuit of traditional Western painting, traditional Chinese painting is not confined to the external resemblance of objects, but rather focuses on the 'expression' of the essence. The 'Advanced Chinese Painting and Calligraphy Course' allows Dutch students to study these techniques through imitation and sketching. While imitation is a process of comprehending of the language of Chinese brushwork, sketching is a way of finding the harmony between man and nature. The aim of Spring Fantasy is to initiate cross-cultural exchange between Dutch and Chinese artists, eventually hoping to seek resonance between mankind and the nature, art and the soul.
Gallery
About
1. Alisha Radjkoemar
Surrounded by beauty of nature in my area, I spend a lot of time outside, walking in nature and hearing the hum of the wind. My world is experienced as an immaculate place filled with sight, sound, scent and beautiful colours, an inspiration for my artworks.
My landscapes show elements in balance: they calm the mind, create silence, and place the viewer in an untouched era of purity and serenity. In subtle nuances that blend in the distance and lines that flow together and allow us to appreciate details in close proximity, my painting, inspired by the painting of ancient Chinese masters, with a technique that achieves compositional strength and depth of contrasts, it takes me through a visual and expressive path that allows me to experience the now and the past in a harmony of forms, and create a story about the being and the whole.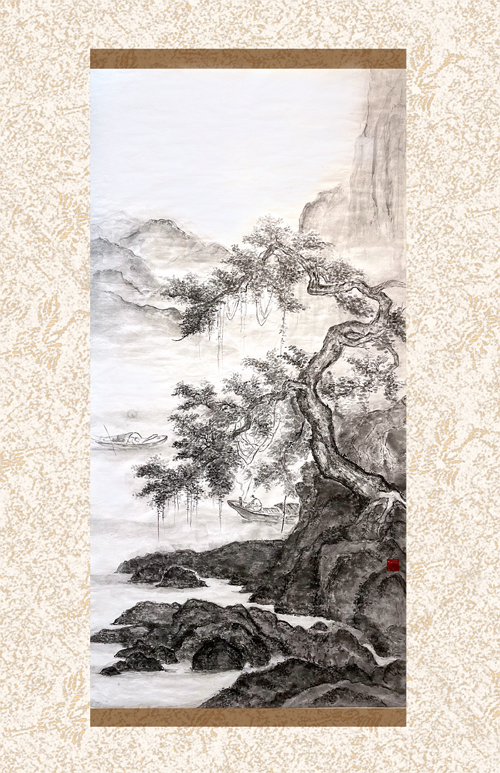 Alisha Radjkoemar
Spring (春)
137x69 cm




Alisha Radjkoemar
Streams and mountains under the snow (雪中山水)
274x67 cm
About
2. Anneke Roozendaal
CALLIGRAPHY IS A MIRROR OF THE HEART
Calligraphy embodies a form of beauty, that only can exist from stillness in body and mind, essential for the way the ink freely flows on the rice paper.
Chi is essential in the way my work arises, remaining true to a thorough understanding and daily practice of the Kanji characters with the different styles, Xingshu, Caoshu and Lishu.
From the age of twenty I have practiced calligraphy, first writing western styles ( roman,italic, gothic ) and the last twenty years Japanese and Chinese calligraphy.
I am very grateful for the lessons from master Zhou Le Sheng. His knowledge of calligraphy and Chinese culture and his attitude in being a master of art inspired me enormously.
My connection with Zen Buddhism and practicing Qigong has a great influence on my work. Calligraphy arises from a state of 'No Mind'. I do not think, do not reflect, there is only the brush, the paper, the moment of being and non being, nothingness and everything. Not the form makes a line perfect, but the attention which results in beauty, power and emotion. I feel blessed with my long practice of calligraphy and meditation, to be able to experience tranquility and joy in my daily life.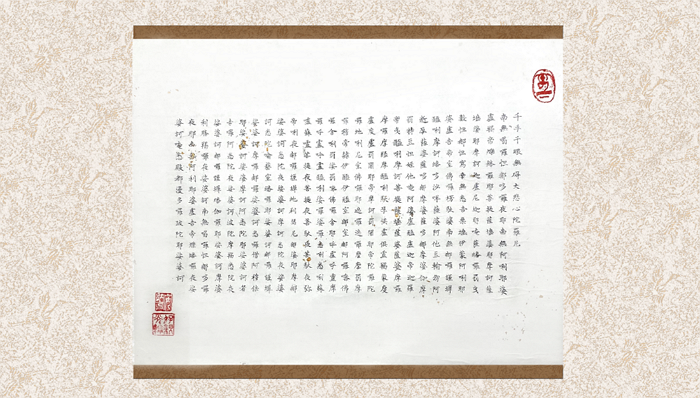 Anneke Roozendaal
GREAT COMPASSION MANTRA (大悲咒)
47x37 cm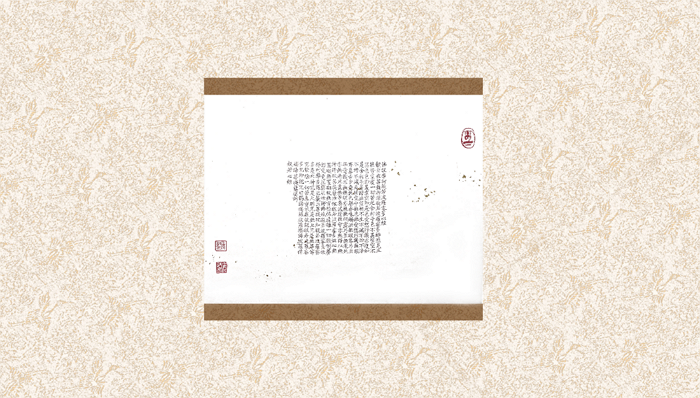 Anneke Roozendaal
HEART SUTRA (心经)
49x38 cm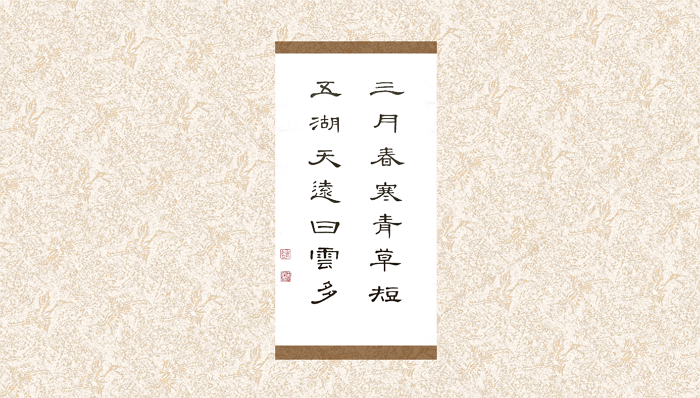 Anneke Roozendaal
Poem of SHAO BAO (明代诗人邵宝的诗)
33x57.5 cm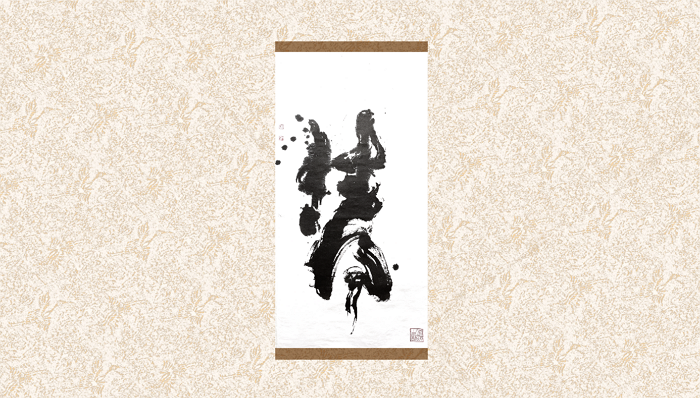 Anneke Roozendaal
PURITY (清)
134x67 cm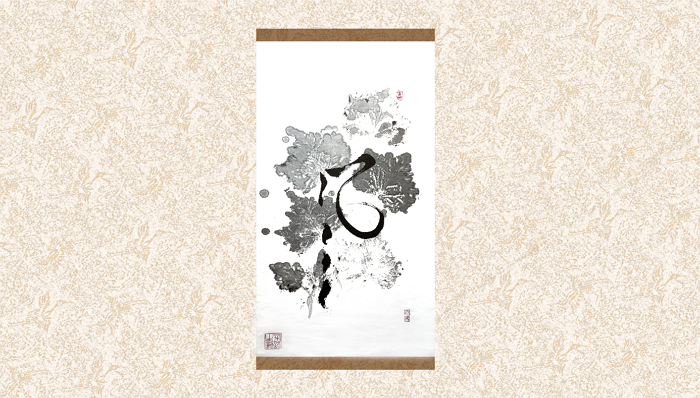 Anneke Roozendaal
WIND with autumn leaves (风中秋叶)
118x64 cm
About
3. Bert van Herwijnen
I studied art at the General University in Amsterdam. I have been an art teacher until 2016. Besides sculpting, wood and bronze, I started working on Sumi-E painting. Since 2017 I have been taking lessons from Zhou Le Sheng.
The way of painting, the accuracy, painting with feeling and the associated concentration appeal to me very much. All this I find in Zhou; I learned a lot from him. Especially working in silence with a feeling of "Chi" if possible, that means a lot to me.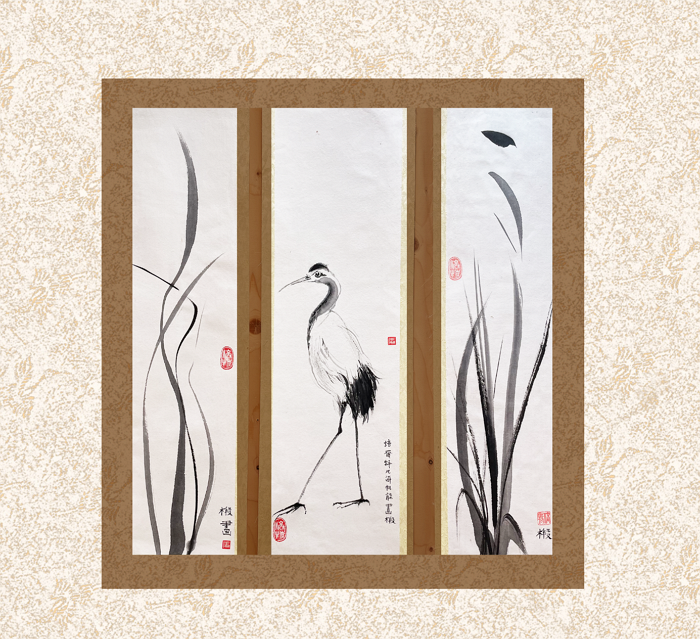 Bert van Herwijnen
MORNING (晨)
68x16, 68x19.5, 68x16 cm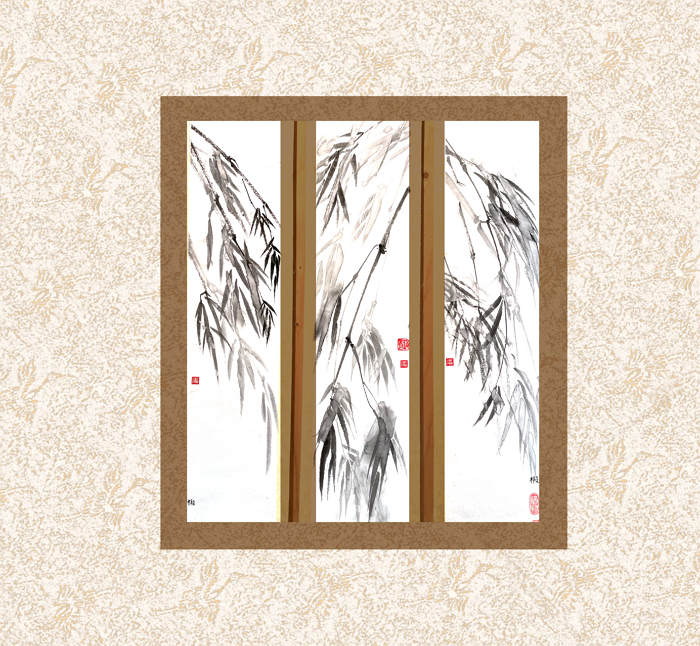 Bert van Herwijnen
RAIN (雨)
68x16, 68x15, 68x16 cm

Bert van Herwijnen
WET (润)
69x33, 33x33, 69x33 cm
About
4. Martine Scheurkogel
I used to manage a library on government policy on science and technology but now I manage projects of the church in places where people need kindness.
In 2006 I went to the Vrije Akademie for several courses and after that, I kept on taking lessons from Zhou Le Sheng. He encourages me to walk in nature and then paint the impressions.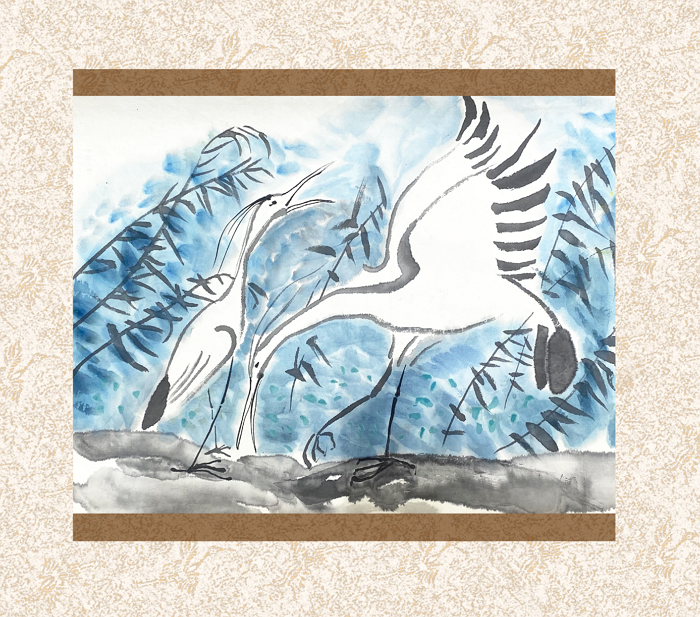 Martine Scheurkogel
Pleasure (乐)
34x44 cm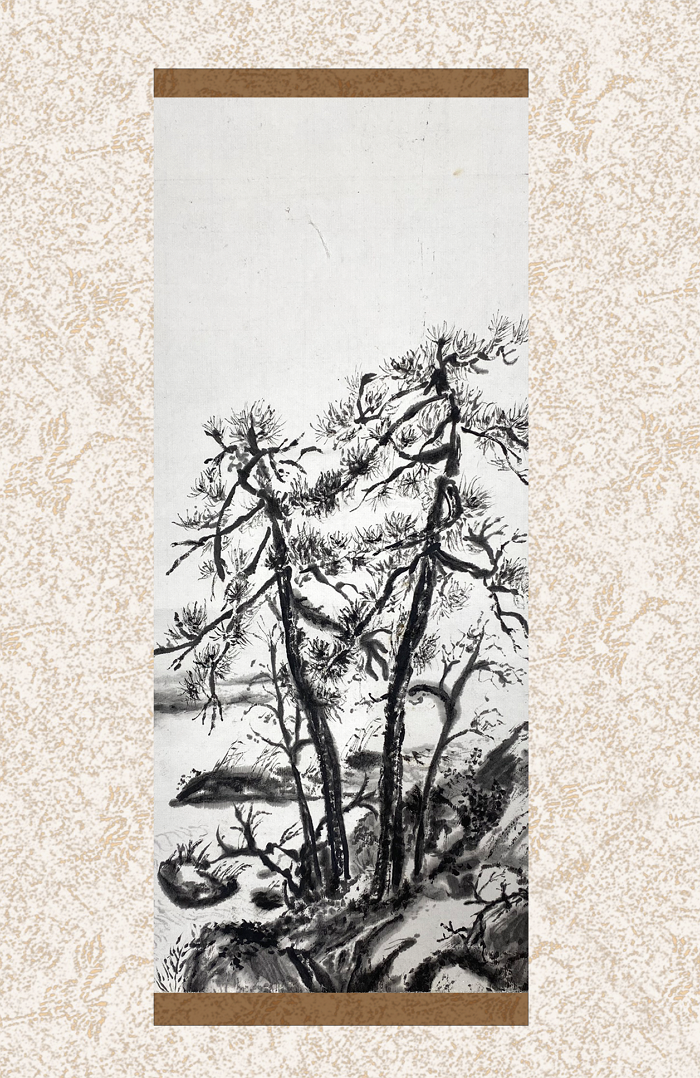 Martine Scheurkogel
Some Trees (树)
38.5x16 cm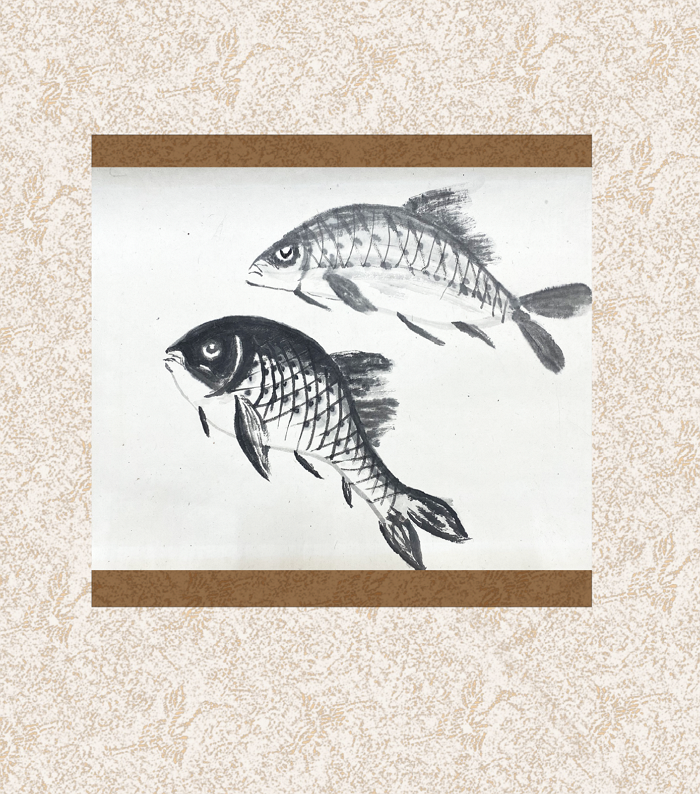 Martine Scheurkogel
Two fishes (两只鱼)
43.5x33 cm
Please kindly note that due to the local Covid-19 regulations, the exhibition will be restricted to a limited number of visitors, and will be open by appointment only. The exhibition opens every Wednesday & Friday from 2pm to 5pm, please reserve your ticket via [email protected] You can also follow us on Facebook and Instagram for more information on the workshops.