Tineke van Gils and Jeroen Bechtold talk about their teapots and the ceramic capitals of China.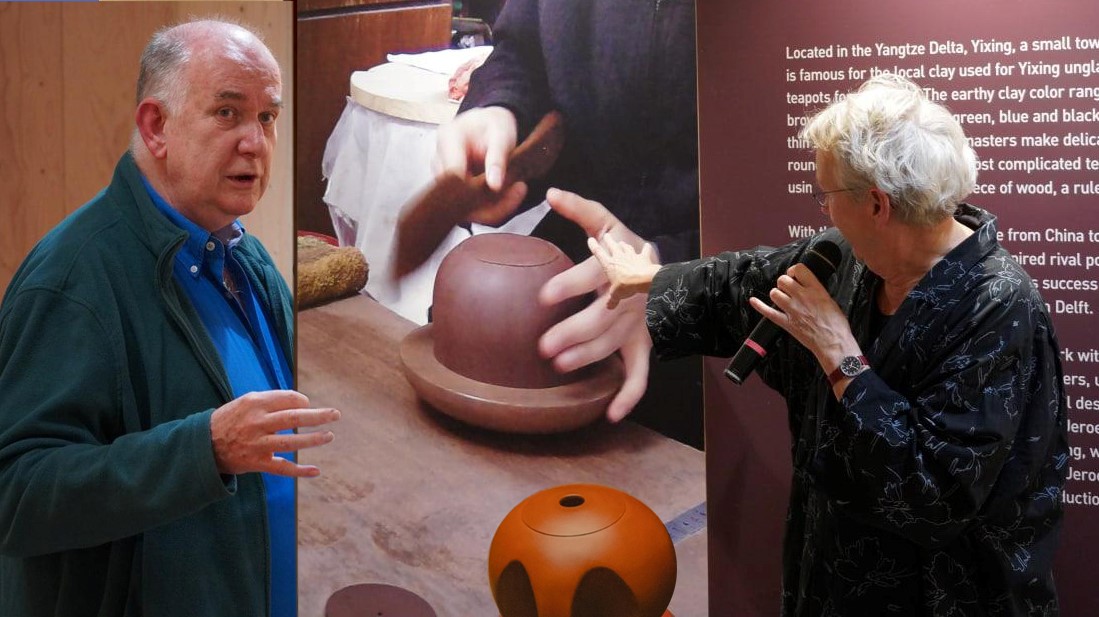 With images and stories Tineke van Gils and Jeroen Bechtold take the audience to the ceramic capitals of China. In 1996 Jeroen worked in Yixing, the city of unglazed purple clay teapots that fit in the palm of a hand. In Jeroen's presence, his virtual designs and clay models were transformed into contemporary Yixing teapots, by Yixing masters using 17th-century techniques.

In 2010 Tineke made a hundred unique teapots on a potter's wheel in Dehua, the city of Blanc de Chine. In 2019 she did this again in Jingdezhen, the city of blue and white porcelain.

Both artists, specialists in their field, were invited by Chinese to make or have their work made from the local clays in the cities concerned. Tineke completed her Chinese teapot projects in Delft, where she made another hundred teapots according to the old Delft blue techniques.

As eyewitnesses and experienced experts, Jeroen and Tineke share their knowledge and experience with the public, after which there is time for questions and discussion. A guided tour of the artists and a tea tasting by Natasja Roodbergen are included in the program.

Thursday 20 October, 14-16 pm.
The number of places is limited.
Reserve your place now!
Thank you for the interest, the workshop is now fully booked. On 10th Nov. we'll organise another panel discussion featuring the four participating artists and tea tasting. More information will follow!