Join us on a journey into Chinese culture by discovering the legendary Dutch writer, scholar and diplomat Robert van Gulik's (1910-1967) passion for Chinese art.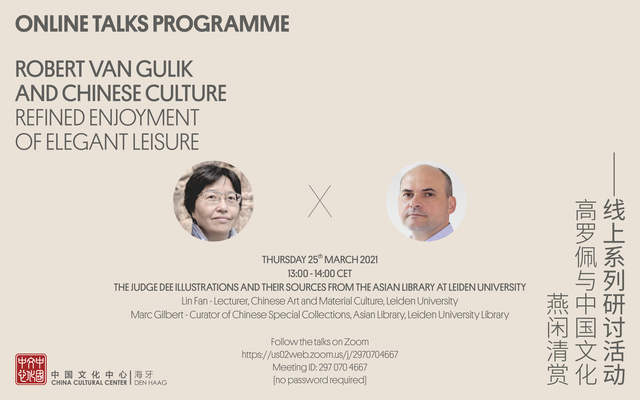 The Judge Dee Illustrations and sources from the Asian Library at Leiden University
Lin Fan - Lecturer, Chinese Art and Material Culture, Leiden University
Marc Gilbert - Curator of Chinese Special Collections, Asian Library, Leiden University Libraries
THURSDAY 25th March 2021
13:00 - 14:00 CET
Watch the recording via:
https://fb.watch/4z0VuElC_y/
About the Speakers
Lin Fan is University Lecturer of Chinese visual art and material culture at Leiden University Institute of Area Studies (LIAS). Her research interest revolves around the relationship between word and image, with particular foci on the production and circulation of premodern Chinese maps, and the spatial and narrative logic of Buddhist wall paintings.
Marc Gilbert graduated from Peking University and INALCO. He was in charge of the Chinese collections at the Lyon Public Library, before becoming curator of the Chinese special collections at Leiden University Libraries.
You may find the full agenda of our upcoming online talks programme below:
Spring Activities co-organised with Royal Asian Art Society in the Netherlands.
More details will follow: www.kvvak.nl/en/ Registration for 9th and 10th April: [email protected]
FRIDAY 9th APRIL 2021
YOUNG SCHOLARS' ONLINE SYMPOSIUM:
RETHINKING ROBERT VAN GULIK: NEW PERSPECTIVES AND APPROACHES
SATURDAY 10th APRIL 2021
ROBERT VAN GULIK AND THE WORLD OF THE CHINESE LITERATI
SCREENING OF THE DOCUMENTARY 'ON THE TRACK OF ROBERT VAN GULIK' BY ROB ROMBOUT, GUQIN PERFORMANCE AND TALKS
To keep up to date with all the events and programmes, please follow:
Facebook: www.facebook.com/CCCDenHaag
Instagram: China Cultural Center Den Haag
Wechat: CCChague
Thanks to The Royal Asian Art Society in the Netherlands
the Rechter Tie / Judge Dee platform