Join us on a journey into Chinese culture by discovering the legendary Dutch writer, scholar and diplomat Robert van Gulik's (1910-1967) passion for Chinese art.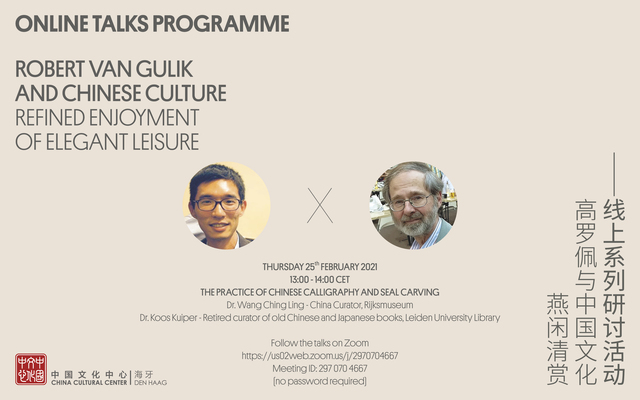 THE PRACTICE OF CHINESE CALLIGRAPHY AND SEAL CARVING

Dr. Koos Kuiper - Retired curator of old Chinese and Japanese books, Leiden University Library
Dr. Ching-Ling Wang - China Curator, Rijksmuseum
THURSDAY 25th FEBRUARY 2021
13:00 - 14:00 CET
Wtach the recordings via:
https://fb.watch/40AR_UFDRu/
Or
https://youtu.be/Q2oiLxVjye8
About the Speakers:

Dr. Koos Kuiper was curator of the old Chinese and Japanese books and manuscripts in Leiden University Library; he retired in 2016. In 2010, he created an exhibition about Robert van Gulik (and his seals) in the Library, which can still be seen online. He works as an interpreter and translator of Chinese (Mandarin and Cantonese). In the past, he translated several works of modern Chinese literature into Dutch, and taught evening courses of Chinese for almost 40 years.

Dr. Ching-Ling Wang, curator of Chinese art at the Rijksmuseum, Amsterdam. He received his doctoral degree in East Asian art history from Freie Universität, Berlin in 2013. His research interests include Chinese painting, Chinese court art, exchange of visual and material cultures between Europe and Asia in the 17th and 18th centuries, as well as contemporary art.
You may find the full agenda of our online talks programme below

THURSDAY 25th MARCH 2021
13:00 - 14:00 CET
The Judge Dee Illustrations and sources from the Asian Library at Leiden University
Lin Fan - Lecturer, Chinese Art and Material Culture, Leiden University
Marc Gilbert - Curator of Chinese Special Collections, Asian Library, Leiden University Libraries
Spring Activities co-organised with Royal Asian Art Society in the Netherlands.
More details will follow: www.kvvak.nl/en/ Registration for 9th and 10th April: [email protected]
FRIDAY 9th APRIL 2021
YOUNG SCHOLARS' ONLINE SYMPOSIUM:
RETHINKING ROBERT VAN GULIK: NEW PERSPECTIVES AND APPROACHES
SATURDAY 10th APRIL 2021
CULTURAL DAY WITH SCREENING OF THE DOCUMENTARY 'ON THE TRACK OF ROBERT VAN GULIK' BY ROB ROMBOUT, GUQIN PERFORMANCE AND TALKS ON COLLECTING CHINESE ART
To keep up to date with all the events and programmes, please follow:
Facebook: www.facebook.com/CCCDenHaag
Instagram: China Cultural Center Den Haag
Wechat: CCChague
Thanks to The Royal Asian Art Society in the Netherlands
the Rechter Tie / Judge Dee platform